This will definitely?be a wonderful gift for family members and friends who love handicraft items.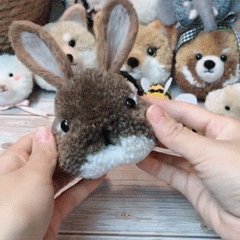 FEATURES
A FUN TOOL:

?

With this handy tool. everyone can easily make beautiful pom-poms and create more interesting projects
EASY TO USE:

?

Simply open the device. wrap each arch completely with your choice of yarn. close the device and cut
CONVENIENT:

?

You don't need much to create a good pom-pom. just some yarn. string. scissors. and this device to complete your fluff balls
RELIABLE:

?

Each device comes with a special ridge to ensure that you're making a straight line

SUITABLE FOR EVERYONE:

?

This pom-pom maker is a handy craft accessory that is ideal for both kids and adults. beginners and professionals alike

WIDE APPLICATION:

?

Great for various projects such as crafting embellishments and decorating scarves. bags. sweaters and more
AVAILABLE IN VARIOUS SIZES:

?

Out of the 4 available sizes. it is best to pick the smallest one for practicing so as to avoid wasting your yarn
HOW TO USE

Wind the yarn around each side of the pom-pom maker then close it

Cut around the edges

Secure by tying the wool around the middle with the use of another small piece of yarn

Open both sides of the pom-pom maker and pop open the center of the maker to reveal your gorgeously made pom-poms
?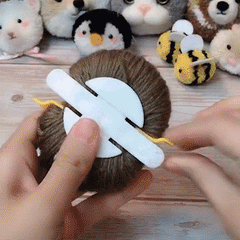 ?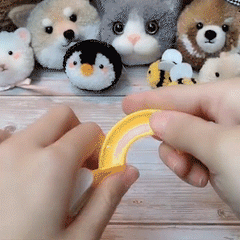 SPECIFICATIONS
Material: ABS

Color: Green / Pink / Blue / Yellow

Size in Diameter: 3.8cm(1.5'') / 4.8cm(1.9'') / 6.8cm(2.7'') / 8.8cm(3.5'')
PACKAGE INCLUDED