Traditional pillar candles shaped design with candle holder, while have the features of snow globe, water spinning glitter lighted candles.
Built-in motor design makes the glitters swirl automatically once it's turned on, just like the real snow, no need to shake it manually.

Home Decoration

These battery operated lighted candles would be a better replacement for tradition candles, without flame and messy dripping, and a nice decoration for your home

Great Christmas Gift

This is a brand new design in candle shaped and made of plastic in copper color, second to none Christmas gift choice, it suits both adults and kids.

Add Festival Atmosphere

Warm white light and spinning water glittering effect creates a sweet atmosphere when your families sit around the table.
 

Light Your Rooms in a Different Way

Colorful and spinning glitters spinning all the time once turn on, beautiful light in the dark night.

Prepare Your Christmas Gift and Decoration Light Now

Placed on the dinning table or fireplace, that would be a nice decoration even if the candles are not turned on. The Santa Clause and Snowmen are waiting for you when you back home.
Christmas Snow Globe Candle Light with 6 Hours Timer Water Glittering Swirling Lamp for Decoration and Gifts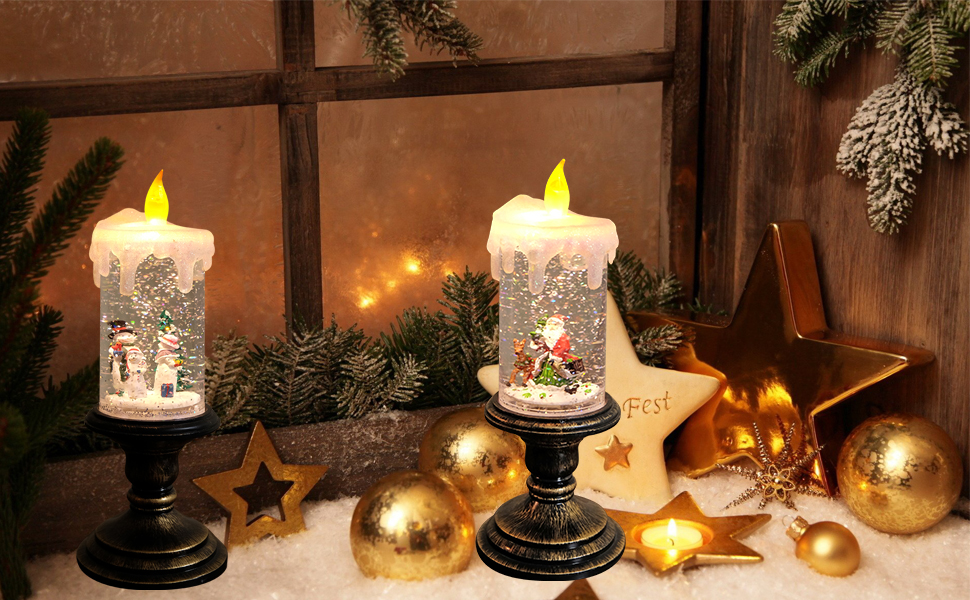 Bring This Gorgeous Lighted Snow Globe Candle Home Today!
Christmas LED Lighting Candle showcases a Christmas scene. This battery operated candle will be a wonderful party decoration and you'll enjoy it on your bookshelf or end table throughout the Christmas season!
Functions:
1. Lighting and appreciation
2. Improving your house festival atmosphere
3. Specially for birthdays and festival gifts
4. As Christmas party table and other indoor & outdoor activities decorations
5. Convenient timer function, saving the trouble of turn on and off, 6 hours on and 18 hours off, automatically cycle every 24 hours.
Specification:
Material: resin, plastic, glitter, led light
Power source: battery-powered
Type of battery: 3x AA (Not Included)
Dimensions: 4" Diam x 11" Height
Timer: 6 hours on and 18 hours off