Description
Color:Black/Beige Size:S/M/L/XL Material:Nylon84%,Spandex16% Depp V & Backless:Show your perfect shoulder and back curve Bra Pad:Well supported and perky, provide a lift for your breast Steel rims:Under Breast Prevent the chest from drooping. Warehouse Location:China,United States DEEP V & BACKLESS DESIGN:Low plunging shapewear build a sexiest look under clothes, Clear strips express your perfect shoulder and perfect back.Bra Pad are well supported, provide a lift for your breast Adjustment strap between the two cup and the steel ring design is designed to better fit the cross shoulder straps to support the chest, gather the chest, and prevent the chest from drooping. The length of straps is adjustable, 3 hooks from two sides of the bodysuit for straps adjusted, you could adjust it when you feel a little bit bigger or smaller, if you don't feel like this straps, you can remove it from the suit ADJUSTABLE STRAPS & TRANSPARENT ANTI-SLIP BARS. Clear, removable bra straps is easy to adjust for fitting. Accommodates plunging necklines. Easy for the toilet use:Sexy thong design.The crotch part is a adjustable hook that fit for your torso in any length, also, no worry about your inconvenience on going to bathroom Linked two sides of the upper half parts giving enough supports in case the breasts being dispersed, makes sure your shape being perfect in any occasions, like wedding, party, club or daily life.
Size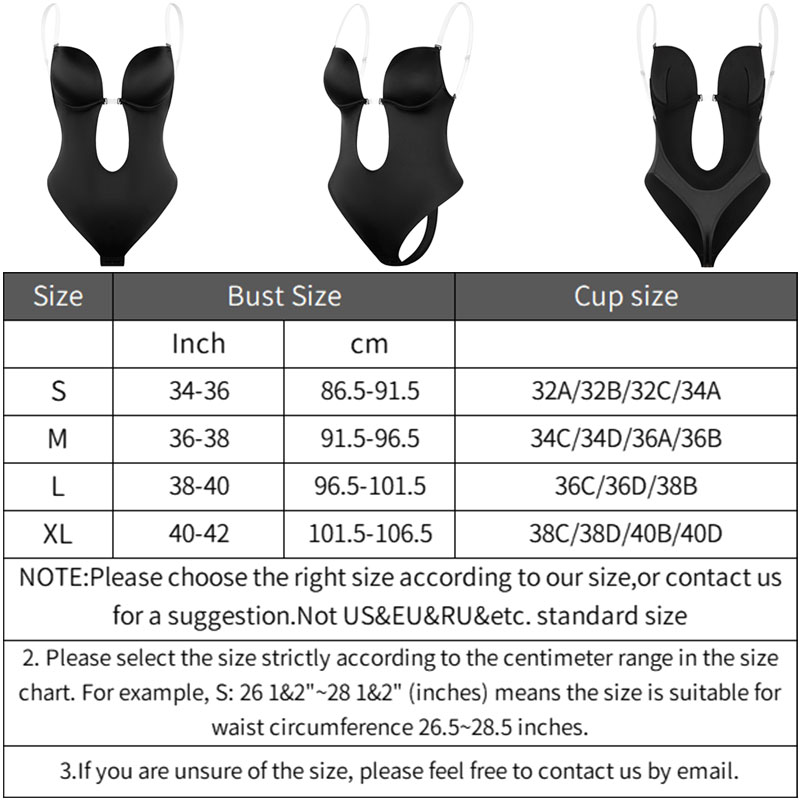 Bust Size
S(32) 32A/32B/32C/34A M(34) 34C/34D/36A/36B L(36) 36C/36D/38B XL(38) 38C/38D/40B/40D
Tips
This product has only a slight sculpting effect. It is mainly to help you gather and lift your breast It is very suitable for wearing evening dresses or backless dress at parties, dinner, dances, etc.and show your sexy figure.
Model Show
1.Invisible shoulder strap
Freely adjustable wearing range according to your actual body size
2.Adjustment straps and underwires
Adjustment strap between the two cup and the steel ring design is designed to better support the chest, gather the breast, and prevent the chest from drooping,giving enough supports in case the breasts being dispersed
3.Padded Bra
Bra Pad are well supported, provide a lift for your breast,Let you show your perfect figure when wearing a backless dress
4.Sexy thong and adjustable crotch design
Not only convenient to go to the toilet, but also outline your sexy hip curve
5.Quality and stretchy fabric
Slight compression force fits your body perfectly and provides you with a slimming effect